Sun Valley Mountain Huts
Boulder Yurts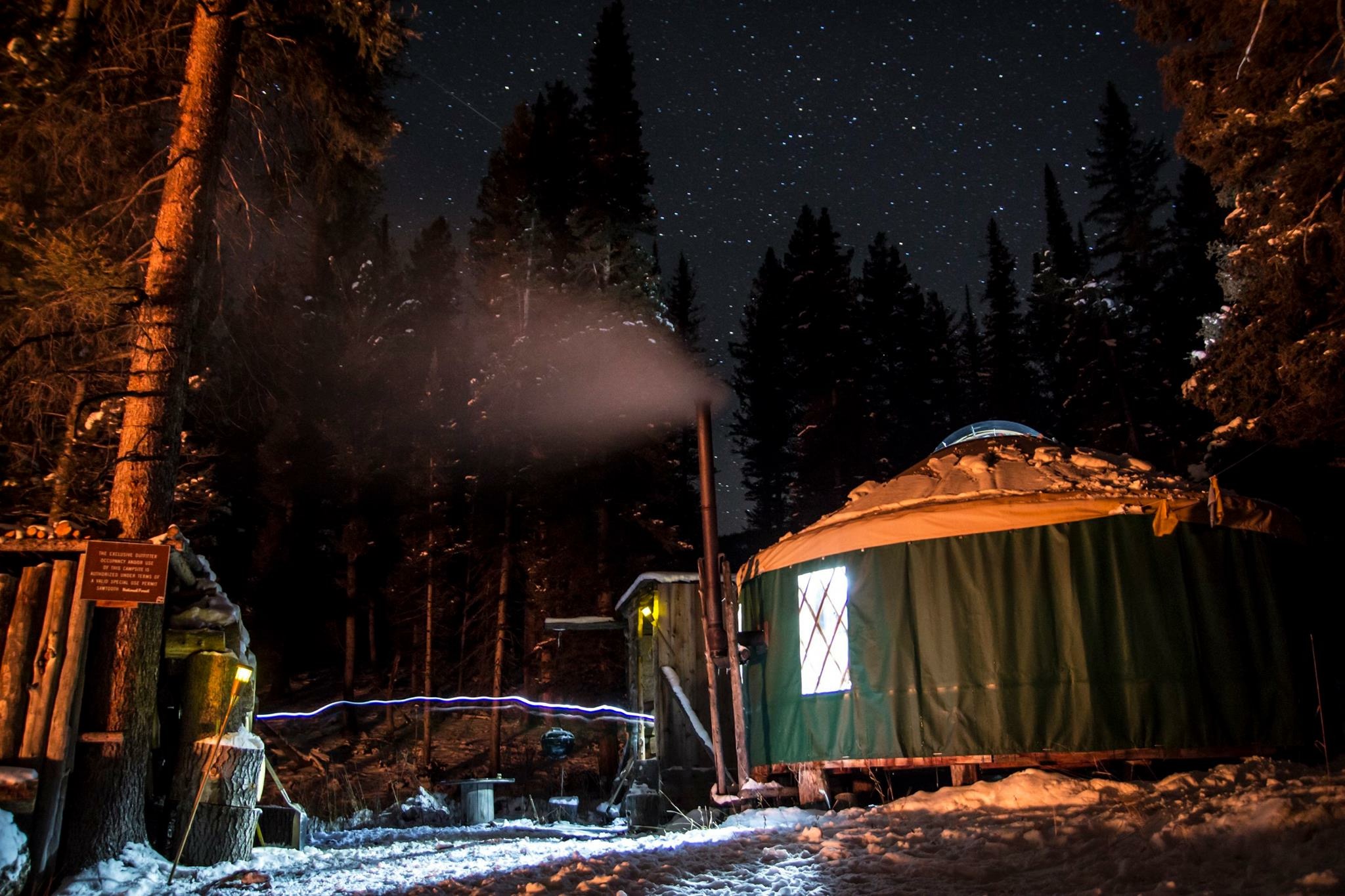 WINTER AT BOULDER YURTS
Great for Everybody: families, novice and intermediate skiers, track skiers, snowshoers, backcountry skiers and snowboarders, the Boulder Yurts are one of the most popular of our huts. After an easy 1.5 mile tour from the trail-head, you arrive at the foot of Butterfield Mountain opposite the magnificent craggy Boulder Mountains. Two Yurts, located at 7,120 feet elevation, connected with a framed annex accommodate 14 people. All amenities are provided including: two wood stoves for heat, Goal Zero solar powered lanterns for light and speaker for mp3 players, a three burner propane stove for cooking, all pots, pans, and cookware to produce a feast-including a fondue set (bring your own sterno), a charcoal grill (bring your own charcoal), all tableware and cutlery, books, magazines, board games, bunks with mattresses, a covered outhouse, and a classic wood fired SAUNA! Guests need to bring only sleeping bags, clothes and food.There are many winter-fun options for the Boulder yurt guest ranging from track skiing on the immaculately groomed 30 Kilometer Harriman Trail, touring through the meadows and along the ridges around the Yurt, taking some downhill runs on the fantastic Ice-cream ridge above the Yurt, or hitting the sledding slope outside the hut. The Boulder Yurts are a great destination for all interests and abilities!
Hut Rates
The minimum rate of $400/night applies for up to eight guests, $50 for each additional person. Additional kids from six to twelve are $25/night. It is required that at least one member of your group be familiar with the route, access and correct hut operations. If this is your first visit to the Boulder Yurts, we recommend that you hire a Hut Rent Guide ($200) to accompany your party on Day One. The guide will lead your group to the hut and orient you to the facilities and how they function before leaving you to pursue your own personal skiing for the remainder of your stay.
Services
Sun Valley Mountain Huts provides porter ($190) and Hut Rent Guide services to make your life easier. Please visit the Services page for additional details. Would you like a ski guide for the duration of your trip? Learn about our partner guide outfitter here.
Sun Valley Mountain Huts
Boulder Yurts
Know Before you go
We'd like you to have a phenomenal experience while staying at our huts! Good preparation before your trip will make the difference between an amazing adventure or an 'epic' one. If you choosing not to hire a professional guide you are entirely responsible for yourself and group. Please check out our web-page: How to Prepare for your Hut Trip to assist in the planning process. Additional resources you should use include : Avalanche Forecast: Boulder Yurts and Weather Forecast: Boulder Yurts . Please be sure that everyone in your group reviews the information and links found on this page. Each participant is required to fill out the online release form prior to departure. You can find useful additional resources on our Links Page including weather models, webcams and weather station links.
Let us know if you have any questions and have a great trip!